The Raleigh Police Department Explorer Post 911
"Our best today for a better tomorrow"
---
The Raleigh Police Department Explorer Post 911 was established on July 1, 2005. It was designed to educate students on law enforcement policies and procedures and give them hands-on experience in the career of law enforcement. Post 911 is hosted by the Raleigh Police Department in the capital city of Raleigh, North Carolina.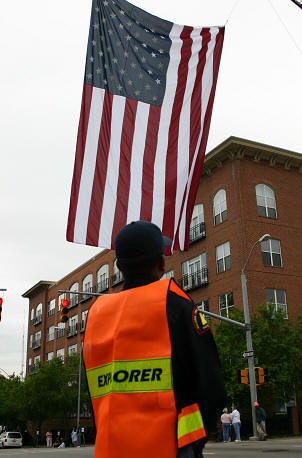 PROGRAM DETAILS
The Raleigh Police Explorer/Cadet Program is a program designed to give positive encouragement to youth age 12-17 (or are currently in sixth grade and higher). The program runs one day a week, after school from 6:30pm-8:30pm on Wednesday, and other days for special events. The program focuses on juveniles who have an interest in Law Enforcement. Members will learn Law Enforcement related tasks from advisor Police Officers.
The general basis of the program will stress discipline, respect, honor, integrity, courage, academics, and strength (physical and mental). Each of these cornerstones will be taught through a para-military style environment. Cadets would be taught drill and ceremony, team building skills, physical fitness, leadership skills, verbal communication skills, public speaking, studying techniques and styles, and other basic skills. These skills will help prepare the Cadets for a future in the Explorer post, academic studies, jobs and careers, as well as a future in the police field or other career field they may choose.
Once cadets meet the requirements to become an Explorer, they will gain further opportunities within the Post. Explorers gain more in-depth knowledge on law enforcement skills and training; and also have opportunities to volunteer at city events, take in/out of town trips to Explorer events, earn college scholarships and credits, earn community service hours, earn promotion points for military service, earn rank/leadership status within the Post, wear an Explorer uniform, go on ride-alongs with Police Officers, and many other opportunities in relation to Law Enforcement.
---
Raleigh Police Department Explorer Post 911.
Copyright © 2011. All rights reserved.
This site was last edited: Thursday, October 20, 2011 18:50:28.